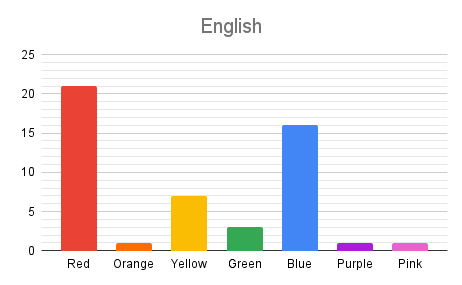 I'm not completely sure how this situation came to be, but in Ms. Gill's 10th grade English class all twelve students got into a very heated discussion about what color we would assign to each school subject. To me the answer seemed a little obvious—red for Math, blue for English, yellow for History, and green for Science—but I was surprised to find that almost everyone had a very different opinion on the matter. 
I surveyed exactly fifty students (which doesn't sound like a lot, but it's actually more than the population of the 9th and 10th grades combined) from the middle and high school, so I could put it all in a graph and find if there was a consensus. After surveying so many students, it's safe to say that most people, including me, are way more passionate about this subject than they should be. 
Math and English appear to be the two most controversial subjects, some people believe that English is blue and Math is red and others believe the opposite. It seems that at the very least almost everyone agrees that English and Math are either red or blue (except for some "individuals" thinking that Math is gray or English is pink), they just can't seem to decide which is which.
History is by far the subject with the most varied answers. History has eight different colors that students suggested (keep in mind I didn't give them choices, I just let them say whatever they thought) with each one having a good amount of votes. Yellow is clearly in the lead with orange as a not-so-close runner up, but all the colors that were suggested have a decent amount of votes that show off the beautiful colors I spent so much time trying to make work correctly on the graphs in Google Sheets.
The verdict on what color Science is is pretty much uncontested. By a nearly unanimous margin, forty-one out of the fifty students I surveyed (that's 82% of the group that was surveyed) agreed that Science is undoubtedly green. I happen to agree with this wholeheartedly and am pretty happy with the results of the survey.
In my opinion, Math is red and English is blue because those two subjects oppose each other just like red and blue do. But why exactly Math is red and English is blue, that I don't know. Leon Zrihen, a 10th grader, posits that people attribute red to the subject they find harder because it's an aggressive color and blue to the one they find easier because it's calming. History is yellow because it makes me think of old weathered maps, yellowish and crumpled. And finally Science is green because I picture green and bubbly chemicals in test tubes.
After the two days I spent surveying the campus I found that the definitive colors for each subject in JLA are blue for Math (darn it), red for English (double darn it!), yellow for History, and green for Science. Oh, and Art is the entire rainbow.